The Holiday Craft Fair is Back!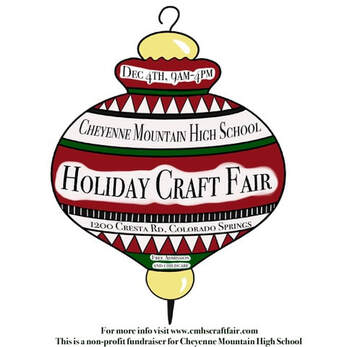 ​Saturday,
​December 4, 2021
9am - 4pm

at

​Cheyenne Mountain High School
1200 Cresta Road
​Colorado Springs, CO 80906
---
---
Vendors: apply now!
---
Over ten years, the Holiday Craft Fairs at Cheyenne Mountain High School have become one of the most popular arts, crafts and gift shows in Colorado Springs. This year, we will welcome over 2,800 shoppers and more than 140 vendors. Our vendors offer ALL HANDCRAFTED items including stocking stuffers, apparel & accessories, toys, decorations, art, and jewelry, home decor and gourmet food items. Use the
List of Vendors
tab for a complete list of this years' vendors and links (when available) to their web sites.
Our Holiday Craft Fair is convenient with wide aisles and single-level shopping and food for anyone using wheelchairs, walkers or strollers.
Our complimentary parking lot shuttle offers assistance getting to/from vehicles as needed.
Our Woodland Cafe offers seating areas and a variety of food options, including breakfast burritos & coffee in the morning, sandwiches & beverages throughout the day.
Our student-elves offer complimentary assistance to both shoppers and vendors to load and unload vehicles, as needed.
Our complimentary child care for shoppers is provided on-site, also by student-elves.
Our Taste of the Holiday's bake sale offers home made desserts to-go, to simplify your valuable holiday-time with loved ones.
Every 15-minutes a shopper wins $10 Holiday Dollars to spend at fair vendors.
Our event offers free entrance to shoppers - no ticket required!

​

Follow us on Facebook